The COVID pandemic—and in much of the country, smoke-filled air caused by rampant wildfires—has renewed interest in a formerly sleepy sector of the gadget universe: the air purifier. The best models can not only remove odors from the air, they can protect your health by cleansing the air of harmful vapors and particulate matter.
To find the model that's right for your needs, you should first consider the size of the room you want the appliance to treat. These are our top picks according to general room size. If you'd like to take a deeper dive into this category of product and see some of the other factors we take into consideration in our reviews, scroll down the page a bit.
Updated December 8, 2022 to add a link to our Carrier Smart Air Purifier XL review.
NuWave OxyPure Smart Air Purifier — Best for large rooms
Pros
Four filter types remove particulate matter, including bacteria and viruses
Simple and responsive smartphone app
Can be controlled with Amazon Alexa and Google Assistant voice commands
Cons
This is a large and heavy appliance you won't want to move from one room to another
Only connects to 2.4GHz Wi-Fi networks
Smartphone app only duplicates the controls on the device itself
This powerful air purifier provides up to 1,200 square feet of coverage, and it will fit into your smart home ecosystem, too. It uses four types of filters to clean your air–three of which can be washed and reused–and its CADR (Clean Air Delivery Rates) of 332 to 369 cubic feet per minute are best in class. You can connect this smart appliance to your Wi-Fi network and control with voice commands, but NuWave's smartphone app merely duplicates the touch controls on the device itself. We'd like it even better if we could program it to operate on a schedule.
Read our full
Review NuWave OxyPure Smart Air Purifier
Jya Fjord air purifier — Best for mid-sized rooms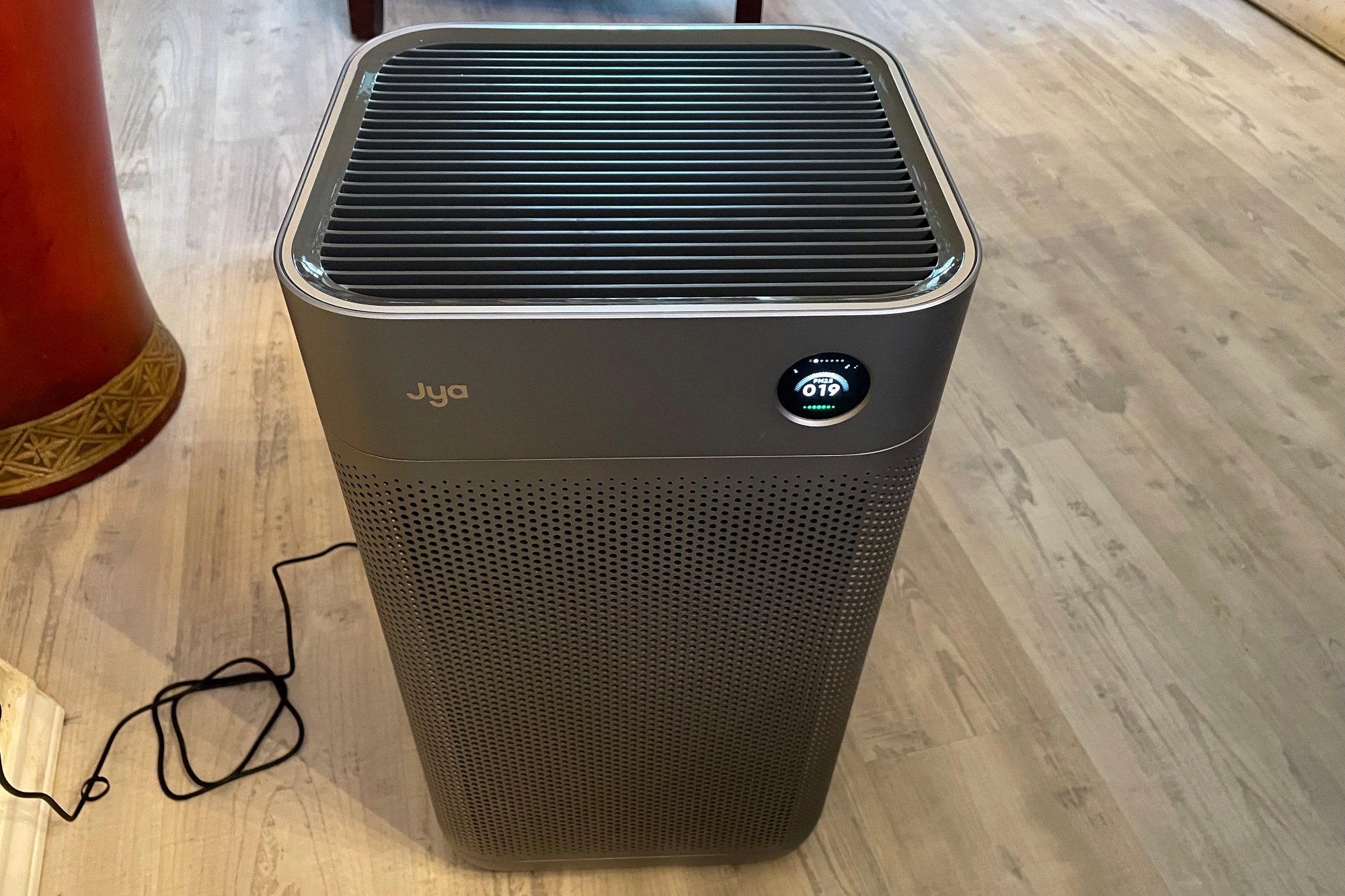 Pros
Whisper quiet
Outstanding collection of features in a small form factor
Supports Apple's HomeKit ecosystem in addition to Amazon Alexa and Google Assistant
Casters included for easy mobility
Cons
Touchscreen can be finicky
Temperature displayed in Celsius only
Filters must be purchased directly from the manufacturer
MSRP:

$399 (plus shipping)
The Jya Fjord is rated to clean the air in rooms up to 667 square feet, with a CADR (Clean Air Delivery Rate) of 265 cubic feet per minute. A small OLED touchscreen displays a small amount of information, but you can use the SmartMi Link app on your mobile device to get additional details and to control this excellent air purifier. This appliance is unusual in that it supports Apple's HomeKit ecosystem in addition to Amazon Alexa and Google Assistant. It's a very good value, especially while it's for sale at its introductory price of $319, including a free air filter, but read our in-depth review for all the details as to how we suggest you purchase one, if you're of a mind to.
Read our full
Review Jya Fjord air purifier
Coway Airmega 150 — Best for smaller rooms
Pros
Real-time air quality monitoring
Simple setup
Compact size
Cons
No app control
No smart home integration
Coway's Airmega 150 a pretty ideal air purifier for modest-sized spaces. Its minimalist design blends with any decor, and it is intuitive to operate right out of the box. While it doesn't offer app control or integrate with other smart appliances, it also doesn't have any of the attendant connectivity and interoperability hassles. The fact that it accurately monitors and responds to changing air quality, so you're always breathing your best, is another reason for us to give it a strong recommendation.
Read our full
Review Coway Airmega 150
Wyze Air Purifier — Best for bargain hunters
Pros
Quick installation
Can cover a large room
Alexa and Google Home compatibility
Excellent app
Cons
Loud
Large design
Setting adjustment aren't implemented in real time
Frustrating firmware upgrade
The Wyze Air Purifier may be big and loud, but it's also powerful and affordable. Compatible with both Alexa and Google Assistant, the Wyze Air Purifier works with the excellent Wyze app, and it has enough horsepower to exchange up to 12,000 cubic feet of air per hour. An "Insights" feature tracks dust and pollen in the room and outside, and you also get your choice of three HEPA filters: allergen, "wildfire," and formaldehyde.
Read our full
Review Wyze Air Purifier
Here's a guide to some of the key operational features in the category. You might also want to check out our buyers' guide to stand-alone air-quality monitors, which can keep you informed of the quality of air inside your home. Since most air purifiers are best deployed in a single room, you can easily move a less-expensive air quality monitor from room to room to track the quality of all the indoor air you breathe.
Room size supported: Every manufacturer reports the size of the room its purifier is designed for, although this can be a bit arbitrary. Still, the manufacturer's number is a good starting point. Place the purifier in a room that's too large and it simply won't be able to effectively clean the air.
Filter type: HEPA filters are largely standard, as are activated carbon filters (which are primarily used to remove odors from the air). But not every purifier relies on HEPA, and HEPA filters come in a variety of performance levels that correspond to their effectiveness at capturing very small particles, ranging from HEPA H10 to HEPA H14. That said, many filters don't report this information. We've asked and reported where we have heard back. Higher HEPA ratings are better.
Filter lifespan: How long until you need to replace the filter, and how much do replacements cost? Some purifiers track filter life inside their app, which is helpful.
Loudness: At high air-flow levels, purifiers can be extremely noisy (and impossible to sleep near). That said, most are nearly silent at their lowest operating levels and some have special "night modes" that keep things ultra-quiet.
CADR: Clean Air Delivery Rate, a standard developed by the Association of Home Appliance Manufacturers, is represented as a series of figures that express how much air a purifier can clean in a set amount of time. Separate ratings are included for smoke, pollen, and dust. AHAM recommends that a purifier be used in a room with a size in square feet equal to 150 percent the CADR (assuming an eight-foot ceiling). (In other words, to clean a 450-square-foot room, you need a CADR rating of at least 300.) Many manufacturers claim their purifiers support much larger rooms than this, however. Note also that CADR is intended to be measured in cubic feet/minute, but some vendors measure it in cubic meters/hour. Where necessary, we have converted these figures to U.S. customary units.
Pollutant levels reported in app: What does the app tell you about your air quality? A detailed look at various pollutants is more useful than a broad "good/fair/poor" air quality rating.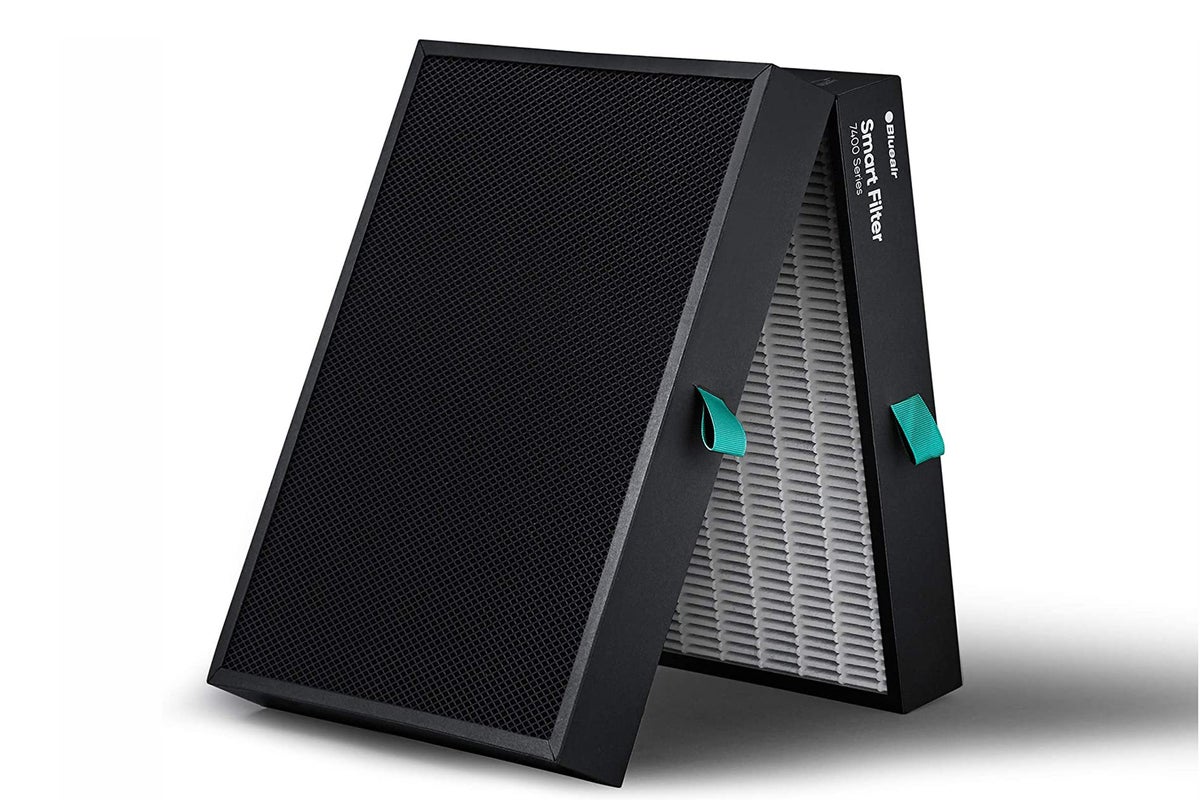 In recent years, however, the EPA has reported that the typical air quality indoors (where we spend about 90 percent of our time) is much worse than it is outside, with some airborne pollutants two to five times more concentrated in the home than outdoors. These pollutants include combustion byproducts, pet dander, mold, pesticides, ozone, natural gasses like radon, and the all-encompassing category of volatile organic compounds (VOCs), which include everything from formaldehyde to trichloroethylene to chloroform. (These gasses can be 10 times higher indoors than outdoors.)
And none of this stuff is healthy to breathe.
Do air purifiers protect you? The experts (including the EPA) say that HEPA (High Efficiency Particulate Air) filters are effective at reducing airborne contaminants of all types—including viruses—but are careful to note that on their own they are not enough to protect you from viruses and bacteria, and that you should still practice the standard battery of safeguards even if you have a great purifier on hand. That said high-quality air filters are effective at reducing (but not eliminating) indoor pollution.
While we don't have the facilities to scientifically test the pollution-reduction claims of each purifier, we do report on the manufacturers' specifications on that front.